MOPEKS® Guide to the Wizard
---
Introduction
This section, in brown italic font, appears in many places on this website for completeness - so you can skip it in future!
End of brown italic section!
Continue
Assuming there are no problems, press the green "continue" button on the Advice form and you will encounter the Wizard, which is oriented towards actions. If you then press the green continue button, you will go straight on to Reception which is oriented towards locations. Both of these forms are merely different routes to the same thing - you can regard them as being navigational aids.
The Wizard is a later addition to MOPEKS and all of the documentation is oriented towards using Reception. Accordingly, once you have visited Reception and understood the general purpose and organisation of MOPEKS you can use either the Wizard or Reception as the route to carry out a task.
Initially, you should ignore the Wizard or maybe just press buttons taking care not to make any changes you do not understand!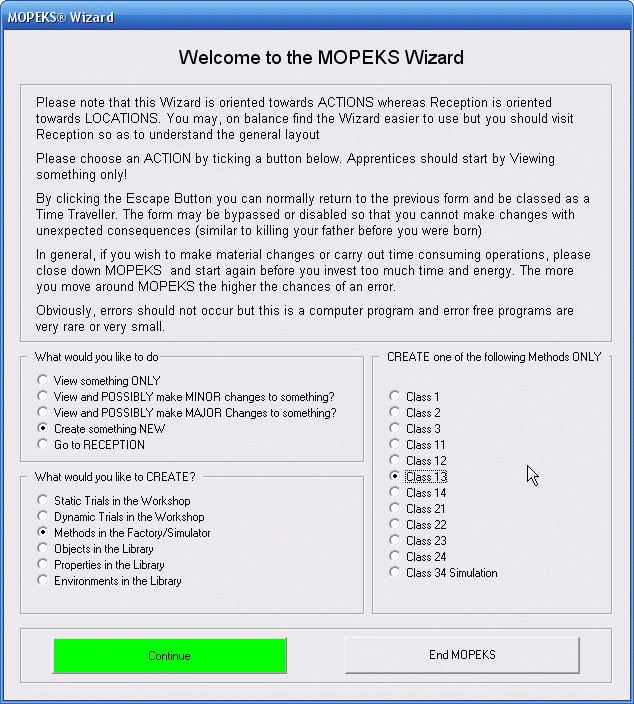 Left click on image for a full size shot in a new tab or window. Press F11 for a full screen, if you wish. Then F11 again to return
---
MOPEKS® and the Blue Logo are the Registered Trademarks of the MOPEKS Organisation
Website Published: 15th October 2013
Program Launched: 2nd November 2013
Copyright © MOPEKS Organisation 2013. All rights reserved
'MOPEKS Organisation' is the Trading name of Mopeks Ltd a company registered in England under number 07519676
The robot docking station is here here
---
---
---